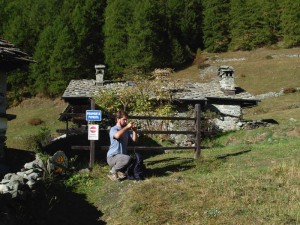 Tuesday, the 2nd October 2012
Altavia n°1 from Saint-Jacques to Valtournenche
This hike follows a fraction of the Ultra Trail named "Tor des Geans": the path is Altavia 1.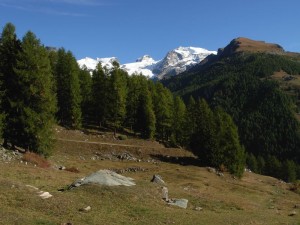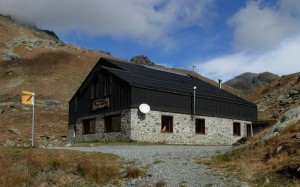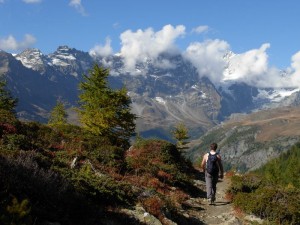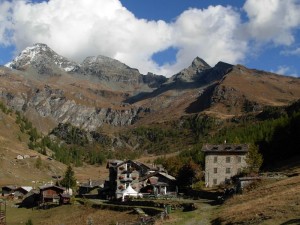 In this case, one does not to be an athlete to admire the open landscapes changing during the uphill.
We tested it as visitors, try to be mountain's curious and without using a private transport.
This outing, which will take all the day, starts from the bus terminal in Verrès, taking the bus at 8:45 to Saint-Jacques. The ticket costs 5,60 Euros until the last bus-stop: a first place ticket for Val d'Ayas' Glacier's show.
Walking nearby the little church, we follow the triangular sign 1 and we start the uphill.
The Pollux and the Castor look at us from the sky, then at Nannaz Inferiore we can enjoy the first larch foliage on the bright white snows.
Continuing to Nannaz superiore, where old houses and horses, blueberry fields change colors, going from red, to orange or brown. Ahead of us, the Bec-de-Nannaz.
The vegetation leaves us as we continue for the refuge Gran Tournalin.
A light lunch break in the shield, because in this part of the year the refuge is closed.
At this altitude just the mountain weeds can survive, in fact they represent the primary nutrition for the animals.
Up there we also met some steinbocks, but they are too far to take a picture.
Fro the Nannaz Pas, commences the downhill. Walking by the ancient moraines and getting to another pass: the Col des Fontaines, in Chamois territory.
From here the view is fantastic, the lake of Cignana besides the white of Valtournenche's mountains, and the red blueberry fields covering all Cheneil's area.
We continue on the paths reaching the first houses. This small part of Valtournenche's Comune has not got a street nor a road. Infact just a bumpy and small path of 2-3 meters link it to the world.
So going down we will have to take the path for Cretaz: the center of Valtournenche.
After about one hour, we will find ourselves walking in front of Luigi Carrel's house, through the main parking, nearby the pharmacy.
Here the bus will take us at 17:10 to Chatillon. Once there we will catch the bus for Verrès at 17:45, direction Ivrea. And after 9 hours, a beatiful fall landscapes we are back where we started.